since their SS11 fashion show, mongrels in common is collaborating with AVEDA.
the mongrels love the AVEDA products and the hole concept and philosophy behind the company.
in collaboration with AVEDA mongrels in common prints all their lookbooks and flyers on fsc-certified paper and without any polluting materials.
together the mongrels and bastian casaretto (artistic director AVEDA) create the hair looks for every show and foto shootings. also mongrels in common created a scarf for AVEDA in SS12. all proceeds went to the initiative "viva con aqua".
"the collaboration with AVEDA and the whole team is like working with friends. We stand behind all products and the philosophy and we don´t want to miss bastian casaretto and his crew backstage." the mongrels

AVEDA: BEAUTY IS AS BEAUTY DOES
Aveda was founded in Minneapolis, Minnesota in 1978 with the goal of providing beauty industry professionals with high performance, plant-based products that are better for people and the planet. Thirty-five years later, Aveda is available in over thirty countries and the company is still at the cutting edge of botanical beauty — innovating plant-based technologies and rituals of wellness while pursuing an ambitious social and environmental agenda.
SCIENCE & SOUL
Aveda's roots are planted in Ayurveda, the ancient east-Indian art of healing, which takes a holistic approach to life and wellness, with a focus on cultivating balance. The brand merges the science of performance-driven, plant-based skin, body and hair care products with the art of the high-touch experience, to offer a comprehensive menu of treatments for head-to-toe beauty. The clinically-proven, three-step Invati™ system for thinning hair, for example, is powered by Densiplex™, an invigorating complex of Ayurvedic herbs to help energize and rehabilitate the scalp in conjunction with the healing art of massage.
WALKING THE TALK
Developing high-performance, plant-based products that promote well-being for consumers and the Earth are just a small part of Aveda's green crusade. The company continually strives to blaze new trails of environmental responsibility in the beauty industry, including being the first privately owned company to sign the Ceres Principles in 1989 (Coalition for Environmentally Responsible Economies) and the first beauty company in the world to manufacture with 100 percent wind power. Aveda's signature Earth Month program is an annual fund-raising effort that, since 1999, has raised more than $32 million to help support organizations that directly affect environmental change. Since 2007, more than $32 million of this amount has been earmarked for water-related causes.
THE AVEDA SALON EXPERIENCE
Aveda Salons allow guests to envelope themselves in relaxation and replenishment, providing a respite to their frequently stress-filled days. In addition to the professional, world class services themselves, Aveda guests also receive an in-depth consultation and personalized product recommendations to ensure salon results at home.
All guests are also invited to engage in a signature Aveda Ritual of Renewal, which may include: The Tea Ritual, a cup of comforting tea upon arrival; The Stress-Relieving Hand Ritual, a complimentary hand massage incorporating the senses-soothing Aveda Stress-Fix™ Body Lotion. Aveda Salon services include cuts, color, men's grooming and specialized treatments to condition hair, improve scalp health and texture treatments.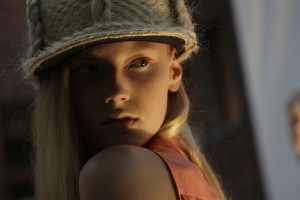 for the SS13 installation bastian casaretto created baseball caps made of real hair for mongrels in common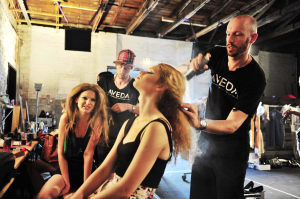 backstage at the SS11 show at resort berlin.